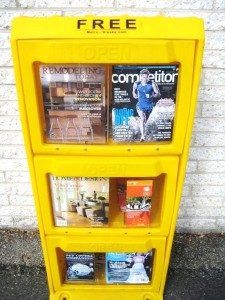 MediaPoint is the largest free publication distribution marketing and management company in the Washington, DC and Baltimore markets.  We offer our publishers a choice of three types of targeted distribution–resulting in total market saturation:
–Delivery to the publisher's proprietary list of locations specific to their readers and advertising base;
–Utilization of our extensive distribution network comprised of thousands of popular locations including Safeway, Shoppers Food, Magruders, Weis Markets, Denny's, Dairy Queen,  Big Lots and Walmart and Wegmans in our Baltimore market.
–Display in our Metro-Kiosks located at high foot traffic Metrorail stations in Washington, DC, Maryland and Northern Virginia–which provides tremendous visibility for our client publications.
MediaPoint has warehouses in Lorton, VA–just 15 minutes south of Washington, DC and Baltimore, MD.  Our Lorton facility has storage capacity for any publication or media with on-site forklifts and pallet jacks.
Professional Distributors
All publication or other types of media deliveries are performed by trained, professional MediaPoint distributors.

Publications Tracking
MediaPoint offers optional publication tracking which continually monitors publication inventory levels, assuring availability.  MediaPoint also can provide timely and accurate distribution audits.

Affordability
Our aim at MediaPoint is to provide our clients with the widest range of services–at the most affordable rates.